What we acquire at our university is highly versatile skills so that we can provide services and problem solving centered on ICT to all areas such as education, medical care, industry, agriculture and finance, as well as administrative companies, companies and individuals. It is a professional skill and dramatically increases your talented value.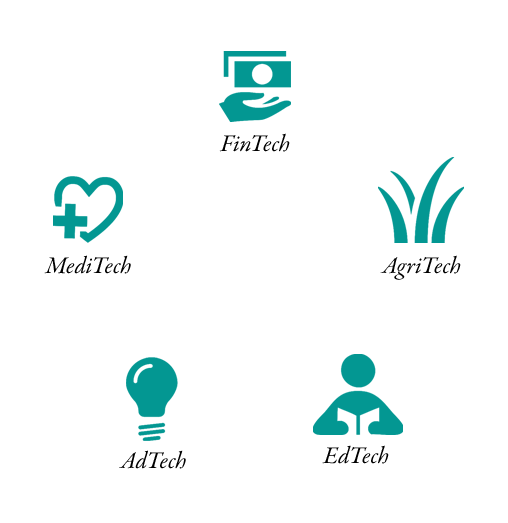 Who do we train?
Those thinking about up-skilling
We train IT professionals ready to face any challenge in two years.
IT beginners
From inexperienced IT students to engineers already in the workforce.
People of society
Learn necessary skills and know-how to reach further.
International students
To advanced IT engineers active in Japan.
KIC was found by Mr Tomio Fukuoka in 1958 with a small Electronic school in the city of Kobe, Japan which was called ''Kobe Electronic School'' which received the reorganization "Institute of Advanced Vocational Education" from the Japanese Ministry of Education in 1988 for it's vital contribution to Japanese computing society.
Now KIC is one of the major institutes for professional, vocational, practical oriented education in ICT and other Digital related industries in Japan with 17,700 alumni.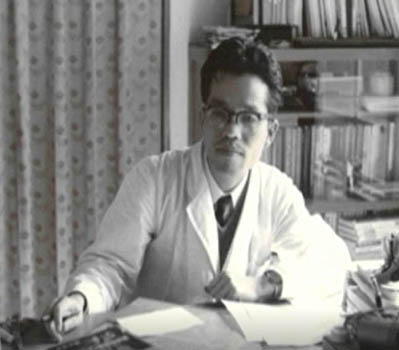 The founder, Mr. Tomio Fukuoka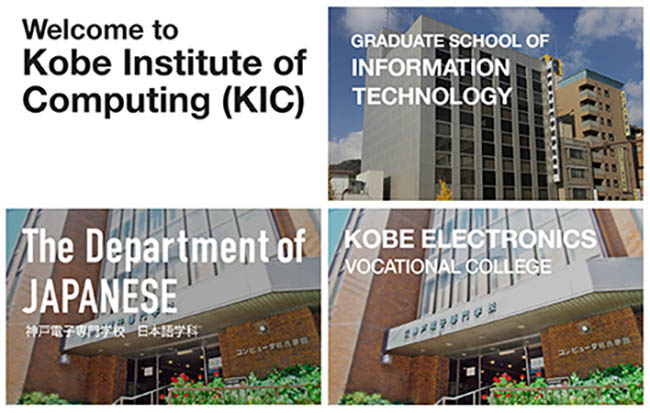 Kobe Institute of Computing is an educational organization that is made up of three main schools, teaching at many different levels from vocational ICT & Graphic Design skills to Masters Level ICT and ICT4D courses.
Our schools are The Graduate School of Information Technology where our Masters courses are taught, and Kobe Electronics Vocational School also know as 'Kobe Denshi', where we teach job-ready skills and we also have our Japanese Language Department, which prepares our overseas students for study on our courses that are held in Japanese.
KIC has participated in a range of programs selected by the Japanese government
"Effective efforts of the FD to ensure the quality of education" as one of 'The promotion programs of the training education for highly specialized professionals in Professional Graduate School and other institutions' in 2008.


"Demonstration experiment on the utilization method for the dissemination of synchronous e-learning system that corresponds to the practical education for advanced ICT human resource development (research and study)", as the program in 'Platform development to support cultivating Advanced ICT human resource' project in 2008.
"A program to strengthen the foundation force of students with an emphasis on knowledge balance in advanced and specialized ICT education" , as one of the 'Project to develop human resources with practical skills through industry-academia collaboration- Fundamental education promotion program of professional human resources' in 2010.


"A development program of human resource who can solve social issues in developing countries by ICT technology utilization" as one of the 'Special programs for priority placement of government-sponsored foreign students' in 2013.
Japan International Cooperation Agency (JICA)'s commissioned projects
The twenty-eleven fiscal year: JICA trainee program for African countries "Problem Resolution for Development Issues by ICT" as the commissioned project of JICA, for 42 days from 5 February, 2012 to 17 March, 2012, KIC accepted 29 trainees, who were government officials from 8 African countries, and provided the course "Problem Resolution for Development Issues by ICT" in Medical Care, Agriculture, Industrial Development, Efficiency of Administrative Services and Education. This program was carried out as follows based on our original problem-solving method "Tankyu Practice".
Group work for hypothesis inspection of the solution by sharing the issues in each country
Introduction to examples in Japan by observational tour of companies and lectures by the speakers invited from various companies and universities.
Group work for further hypothesis inspection based on examples.
Symposium in the official side event of TICAD V (The Fifth Tokyo International Conference on African Development, 3 June, 2013)
ICT Innovation between Rwanda and Japan
Jointly sponsored by JICA and JETRO, the panel discussion themed "the future prospect and the potential of Rwanda" was held in the official side event of TICAD V. The speakers gave the presentation on the present conditions, the actual examples and the potential of Rwanda, and also the exchange of opinions was performed actively. The adults and the students, regardless of inside and outside of the country, attended it and the questions and answers from various viewpoints were carried out positively.
Memorandum of Understanding between the Rwandan ICT Chamber and KIC for the development of ICT human resources and the promotion of industry ,13 June, 2014
The Rwandan ICT Chamber and KIC signed a memorandum on the partnership for the software development, the game software development, the production of animation and digital contents, the development of ICT human resources and the promotion of industry.