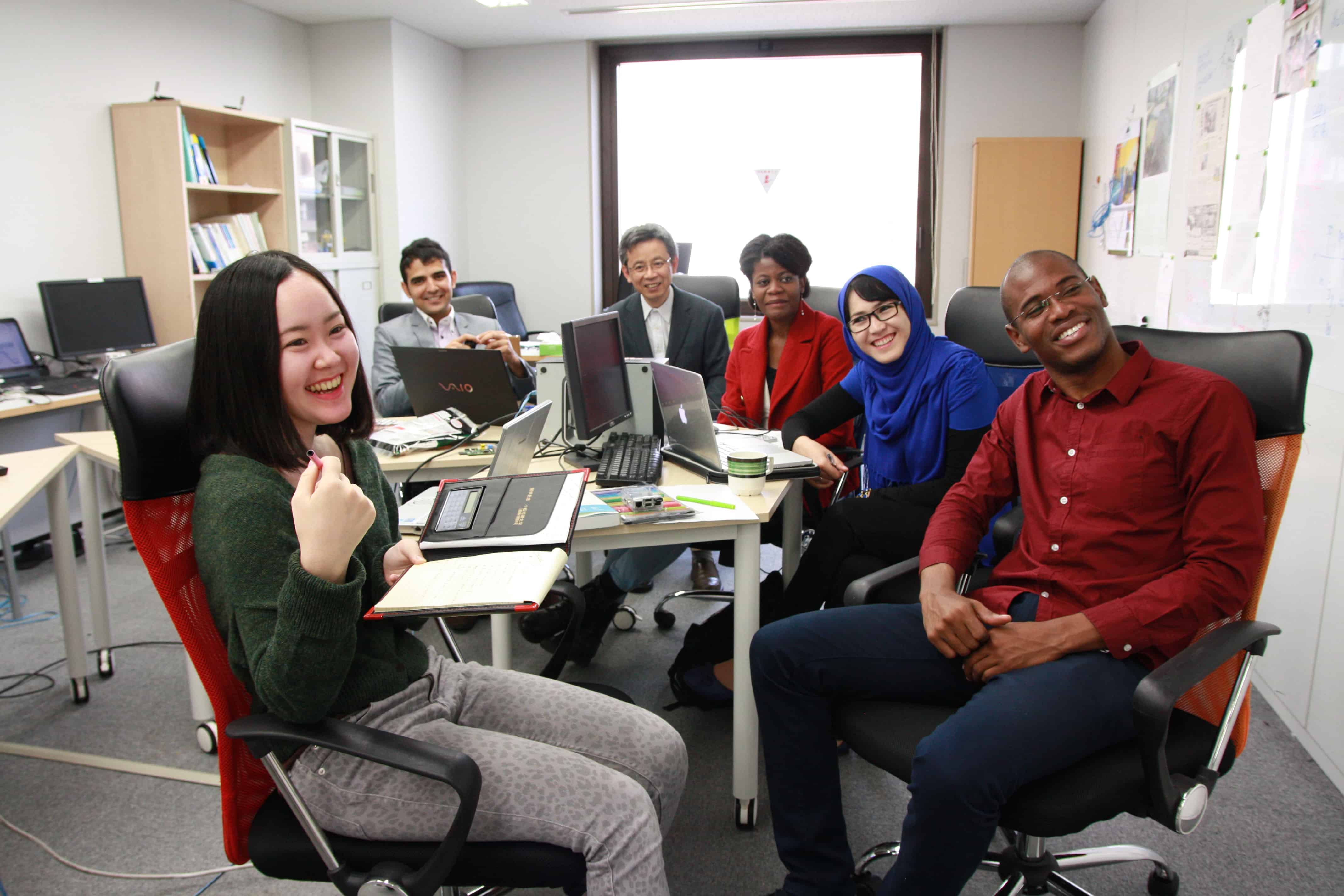 Diversity KIC
The social problems of the eday tend to be more and more complicated. Knowledge from experience and knowledge of basic are not enough to respond to issues today. We are living a time when from manager to new employees are required to gain advanced knowledge and sharpen own skill to march the new business opportunities. So far, many personal from various parts of the world have completed the Innovator course at Kobe Institude of Computing and found valuable opportunities with the new skills they aquired. Won't you join then and broaden your knowledge in the ICT sector and consequently gain higher value as a human resource. KIC's diverse environment is the place where you can achieve ambitions and reach targets. The language of instruction and guidance of the Innovator course at KIC is English, but you will have the opportunity to use others while chatting with your students from barious countries and areas.
Main programs for Africa
JICA Knowledge creation program for Africa, "Solving development challenges utilizing ICT (Tankyu for Africa)", 2011
Africa Business Education (ABE) Initiative, 2014~
JICA Knowledge creation program, "Capacity Building for ICT Project Planning", 2015~
JICA Partnership program, "ICT Human Resource Development Project in Kigali, Rwanda", 2017~2019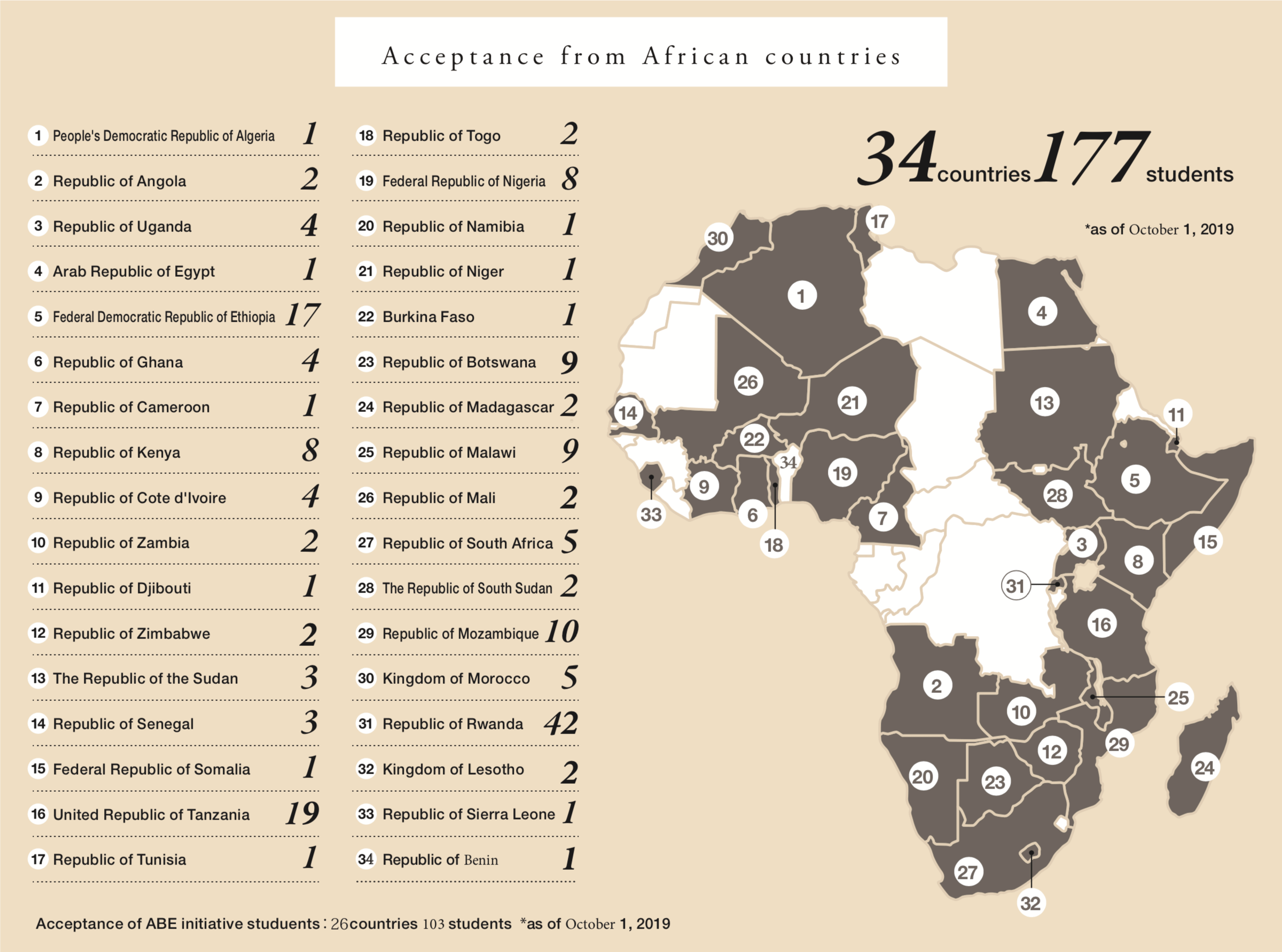 Collaboration with Private Companies
Contribution to the business exchange between Africa and Japan
KIC and Otowa Electronic exchanged MOU for business expan- sion and industrial human resource development for African countries. Many African countries are suffering from lightning damage in their society. Rwanda, for example, is the most affected country around the world by lightning. KIC accepted many students from Rwanda, and some of them participated in an internship program in Otowa Electronic. Mr. Amiri Mugarura was one of such students, and he was impressed by their high technology. He wished Otowa Electronic to support Rwanda technically and business expansion. His strong passion made Otowa Electronics decide to support human resource develop- ment for restoration from lightning damage. The company is currently expanding business in Rwanda. A partnership agree- ment (MOU) between KIC and Otowa Electronics has become real thanks to encountering Rwandan student wishing to decline lightning damage. Mr. Amili has established his own ICT company and want to tack Rwanda's development challenges in collaboration with Otowa Electronic.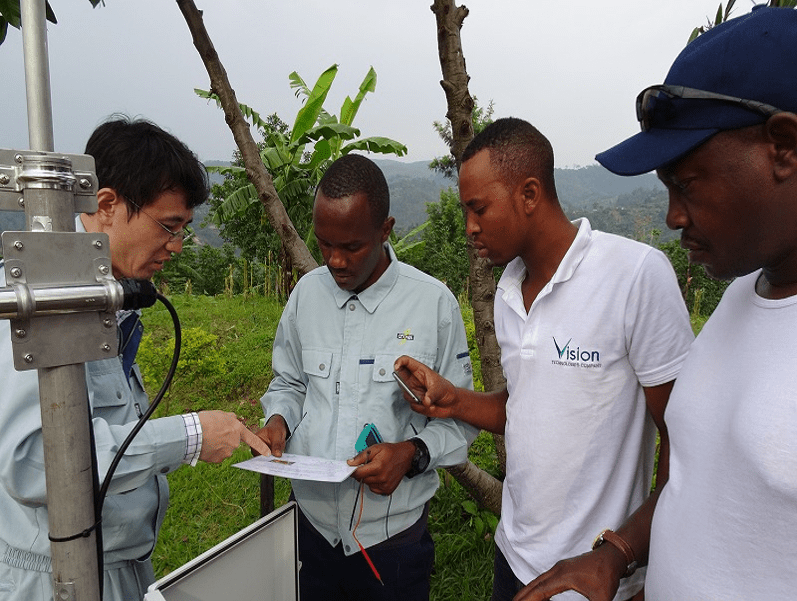 ---
Problem solving, private partnership, own and unique program
KIC fosters students having flexible thinking through various curricu- lum and private companies' observation. KIC's original lecture, "Practice of Creativity Development", is conducted by the President of KIC, Prof. Sumitani, in order to train students having flexible thinking and creativity required for problem finding and solution proposing. Students can learn various methods of idea creation by active learning style. During 15 times lectures, valuable guest lecturers from various fields of private sectors will be invited and the lecture will be conducted by omnibus form. "Leadership Innovation Program" for young staff training conducted by Chugai Pharmaceu- tical Co., Ltd. in Tokyo is one of the examples. KIC students from abroad and young staffs of Chugai-Seiyaku jointly discussed about challenges of students own countries such as Malaria, HIV/AIDS, energy supply, preventing glucosuria and others. They suffered to create innovation to solve the issues, but proposed possible new solution through KIC's own Tankyu method for problem solving. KIC is connecting various partners such as private companies, institu- tions and individuals to provide opportunities to find solution both for Africa and Japan interactively.