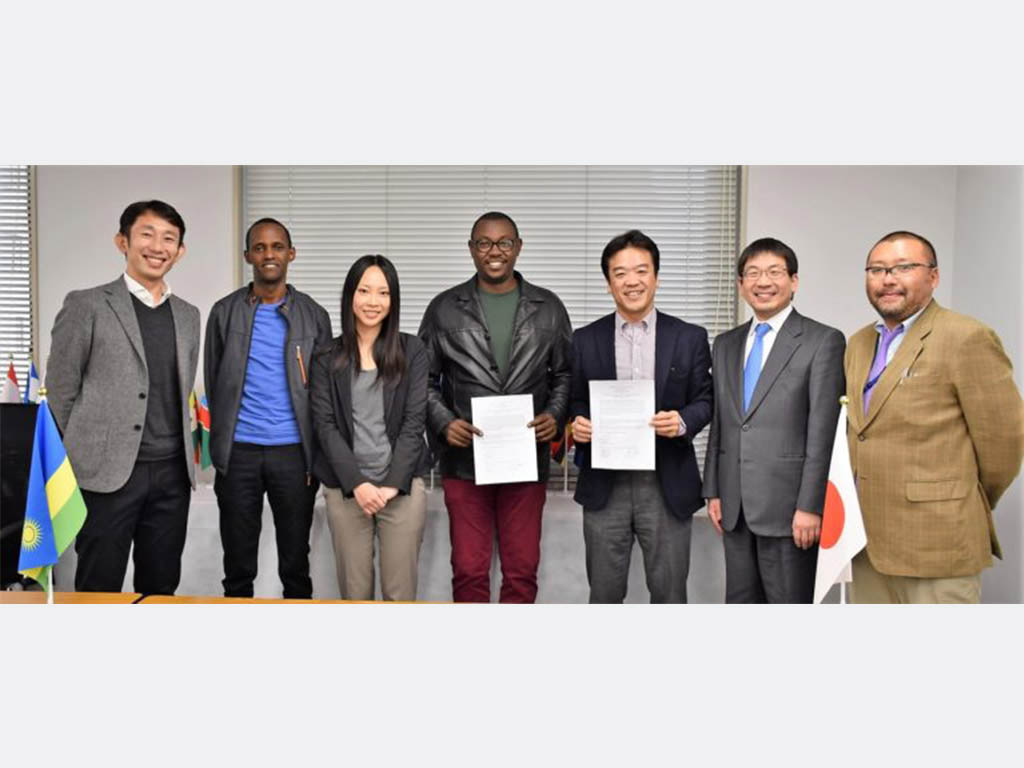 Photos provided by the Mainichi Newspapers (http://www.mainichi.co.jp/)
KIC signed a MoU regarding the ICT human resource development project in Rwanda.
2017/1/24
Kobe Institute of Computing Graduate School of Information Technology is in the final preparation phase before commencing the "ICT Human Resource Development Project in Kigali, Rwanda" in partnership with the City of Kobe, which is to be funded by Japan International Cooperation Agency (JICA).
This project aims to produce capable human resources in the ICT sector that satisfy the technical and general skills standards required by the ICT related enterprises in Rwanda. The training courses under the project will be provided through facilitation by local trainers who themselves have graduated from KIC through ABE Initiative program. As part of the project, activities to link Rwandan human resources with Japanese enterprises will be carried out in cooperation with the City of Kobe, which already has a partnership with the City of Kigali.
During the period between 16th and 20th January 2017, from the counterpart institution in Rwanda, the Rwanda ICT Chamber, Mr. Robert Ford Nkusi, Vice President, and Mr. Alex Ntale, Executive Director, have come to Japan to have discussion on the project implementation with the members of the City of Kobe, JICA and KIC.
On the last day, Rwanda ICT Chamber and KIC have signed a MoU, which lays out the basic common understanding between the two parties regarding the project. Based on this MoU, more detailed project implementation plan will be developed.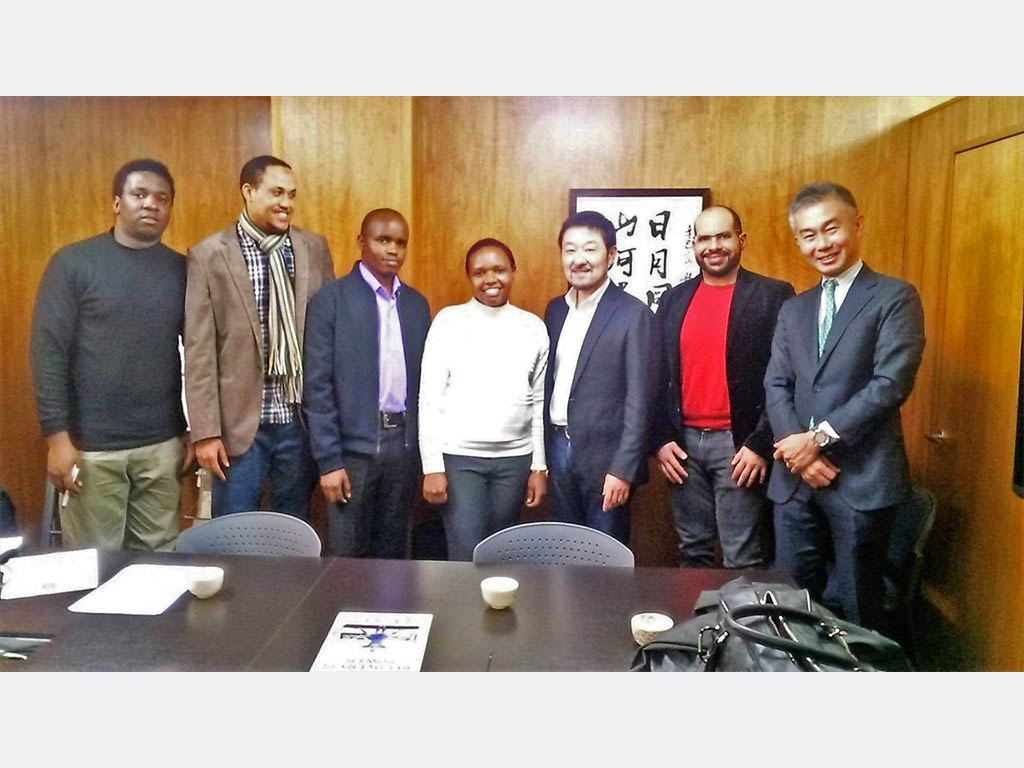 Students visited WIP Japan Corporation
2017/2/7
African students and Prof. Yamanaka visited WIP Japan Corporation, one of the most esteemed "Translation and Overseas Marketing" companies in Japan. They discussed various aspects on how to increase trade and investments between Africa and Japan. We'd express sincere gratitude to Mr. Fuku, President WIP Japan Corp.
---
There are currently no news stories for this month.
Please feel free to select another month from the tabs above.
---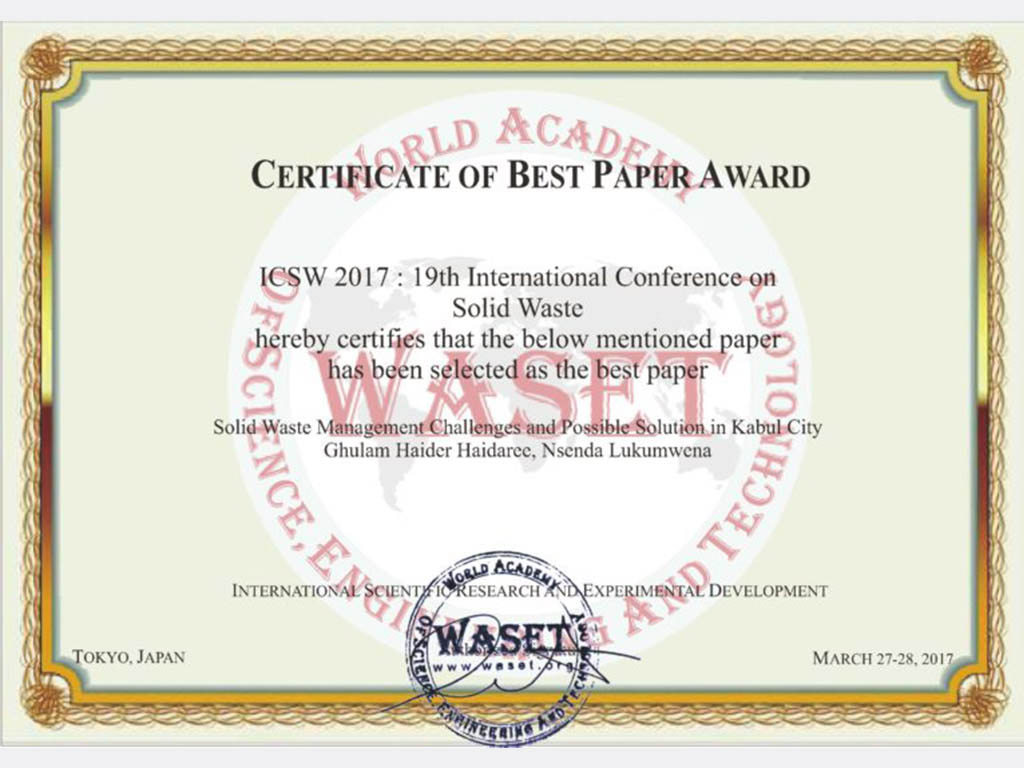 Student Won Best Paper Award
2017/4/28
Mr.Ghulam Haider Haidaree and his supervisor Prof. Nsenda Lukumwena won the Best Paper Award at 19th International Conference on Solid Waste 2017 (ICSW 2017).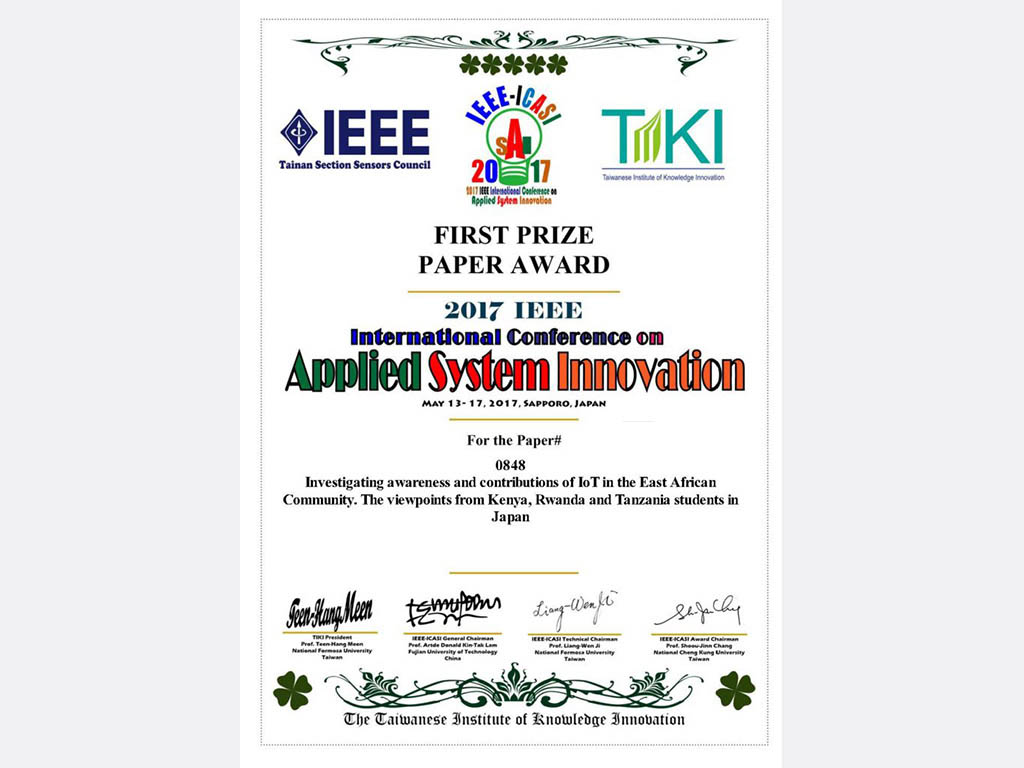 Students won the First Prize Paper Award
2017/5/24
Students from Markon lab, Wannous lab and Sun lab received recognition in IEEE ICASI 2017 conference in Sapporo, Japan.
Mrs. Mwana Said Omar
Mr. Alexander Muriuki Njeru
Mr. Andrew Orlando Oduor
Mr. Antonio Reginaldo Antonio Francisco
Mr. Emmanuel Bikorimana
Mr. Joachim Rutayisire
Mr. Mohammad Nazim Kabiri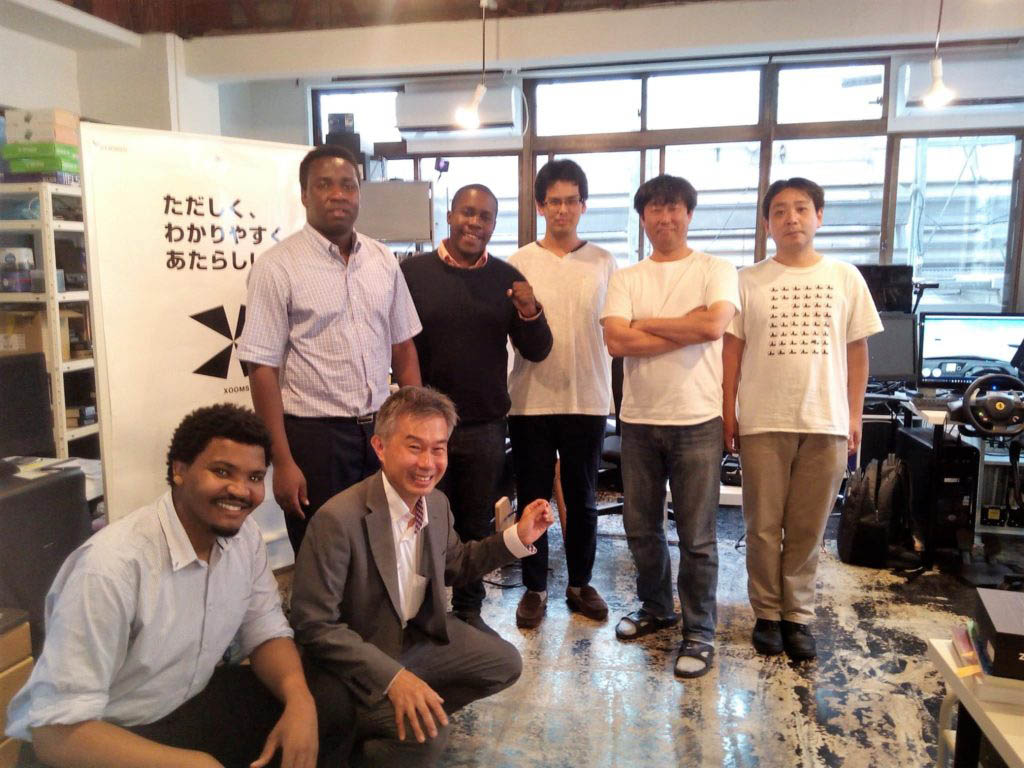 Students visited XOOMS
2017/6/19
Students in the Yamanaka lab visited XOOMS, which is a production company specializing in science and technology in Kobe city. They had a fruitful discussion regarding VR, AR and other topics with the Founder Mr. Yasuda and members of XOOMS.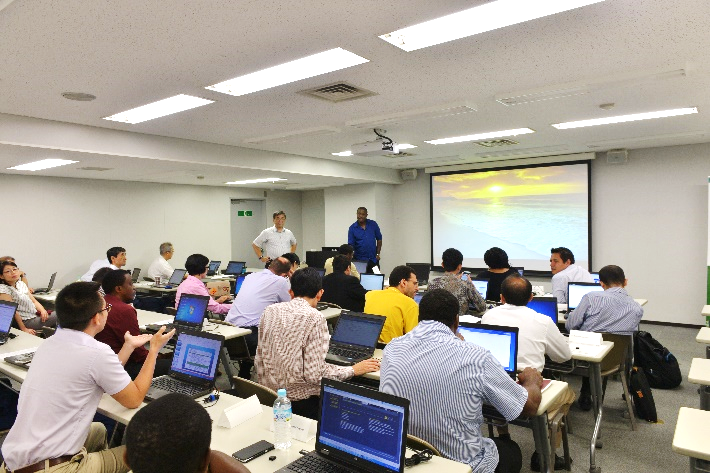 [Report of Short-Term Training] 20 trainees from 16 different countries learned in KIC
2017/7/24
KIC has been accepting and training officers and engineers in developing countries from 2015 as "Capacity Building for ICT Project Planning" which is one of the JICA's Training Programs.
20 trainees from 16 different countries were trained in KIC for cultivating their capabilities for connecting to real solutions by utilizing "Problems solution method" and ICT technology in developing countries regarding industry, urban development, public health, health care, and education field within 5 weeks, from June 12th to July 14th, 2017.
We gave them training trough "Tankyu Practice*" which is our original method, and "PCM method*" which is JICA's original method. They gave presentation about their achievements in presentation meetings of "Tankyu Practice" and "Action Plan"
Examples of problems in developing countries which the trainees approached:
The economical loss by traffic jams in the morning and evening
The worsening public security situation from the epidemic of crimes and traffic violations
The deficient healthcare services in rural area
The difficulty of obtaining employment for the youth
Student Voices
"Tankyu Practice is really practical method to develop new strategy!"
"PCM workshop is useful to analyses problems by logical thinking and make a plan."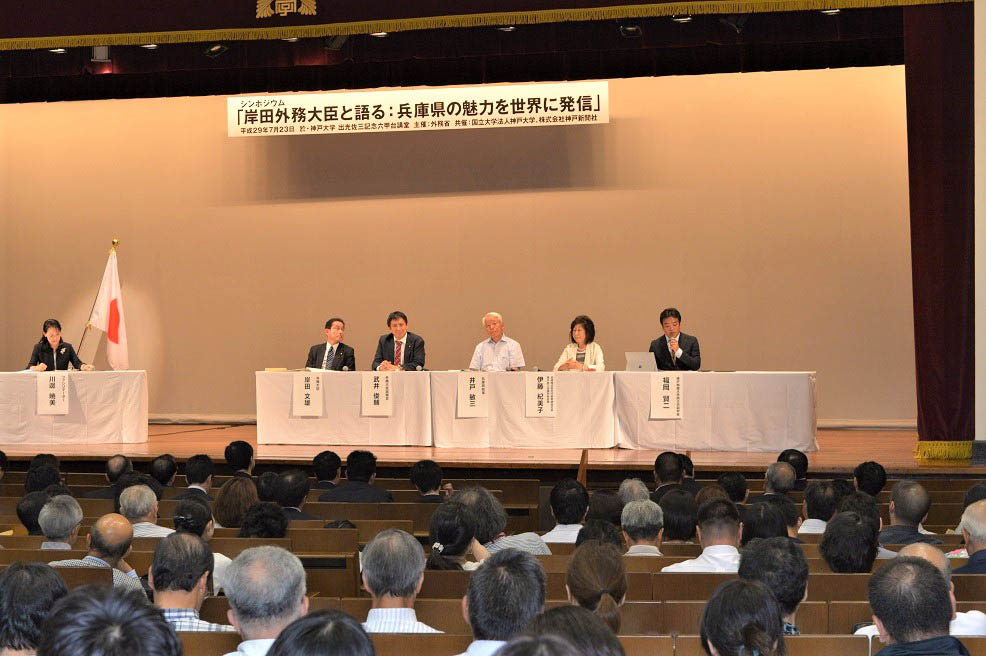 Title: Mr. Fukuoka, Vice-president of KIC, received a letter of appreciation from Mr. Fumio Kishida, the former minister for foreign affairs
2017/8/25
Symposium hosted by Ministry of Foreign Affairs "Talk with Foreign Minister Kishida: Disseminate the attraction of Hyogo Prefecture to the world".
It was held at the Kobe University Idemitsu Sazo Memorial Rokkodai auditorium on July 23. Kenji Fukuoka, Vice President of KIC appeared as a panelist with Foreign Minister Fumio Kishida, Parliamentary official Shunsuke Takei, Governor of Hyogo Prefecture Toshizo Ido and President of Tajima Corporation Kimiko Ito. They talked about the dissemination of charm of Hyogo and Kobe to the world.
At a later day Foreign Minister Fumio Kishida sent a letter to Kenji Fukuoka in appreciation as a meaningful exchange of views on the appeal of local attractions at this symposium.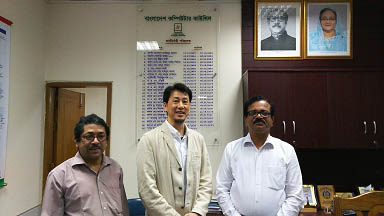 Bangladesh ODA Report Vol.1
KIC promote national ICT project in Bangladesh
2017/8/31
KIC has been entrusted the technical aid project ''ICT Human Resources Development Targeting the Japan Market'' from JICA(Japan International cooperation Agency) in the period from July 2017 to September 2019. Yukinobu Miyamoto, KIC extraordinary associate professor went to Bangladesh to on-site review and had meetings with counterparts this summer.
Project Overview
Currently, an IT skill standard hasn't been established in Bangladesh and that's preventing national IT development and engineers' career designing. This project aims to install Japan ITEE (Information Technology Engineers Examination) utilization system and to establish an independent training system of ITEE in Bangladesh.
Launched Activities
Yukinobu Miyamoto, KIC extraordinary associate professor is in charge of the project and he has already launched the activities (on-site review, meetings with counterparts etc.) form 4 to 18 August. In the meeting with one of the counterparts, we came to the same conclusion that we need to increase the number of the successful candidates of ITEE and establish the ITEE training system to generalize ITEE in Bangladesh. We also discussed the scheme (e-learning, set a target, schedule of seminar) towards to the exam in March. In the long term this project contributes to development of ICT human resources and business partners targeting Japan market. KIC is playing a part as a representative of education.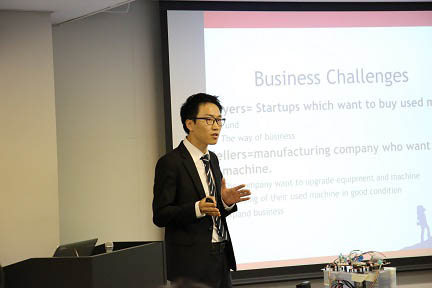 Final Presentation for ICT Innovator Course 2017
2017/8/23
Final Presentation for ICT Innovator Course 2017, was conducted on the 20th and 21st of August 2017 at KIC by final year students at the culmination of the final year of study.
Mr. Tosiki Sumitani, President of KIC gave reviews on their research results, presentation technique, and demonstrations using developed devices.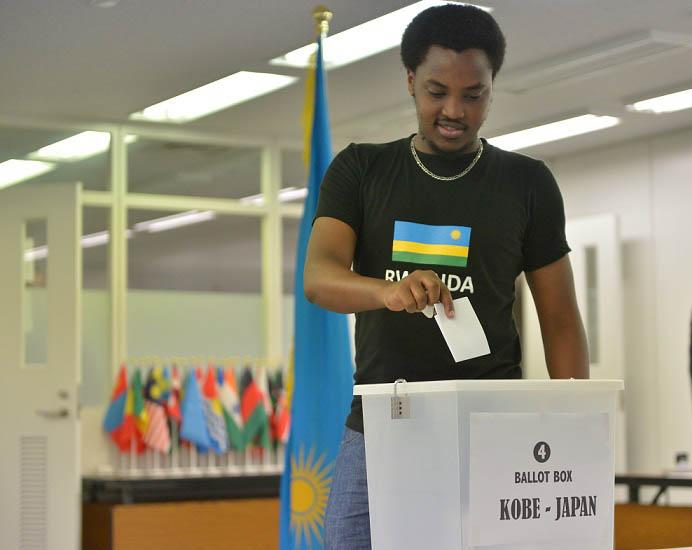 Overseas polling for Rwanda presidential election was held in KIC
2017/8/4
August 3th, 2016, the polling place of the Rwanda Presidential Election, which was supposed to be held the next day was established in KIC. At this time, Republic of Rwanda established an overseas polling place for the Rwanda Presidential Election just in KIC without Embassy of the Republic of Rwanda in Tokyo, Japan.
Not only overseas students of KIC from Rwanda, but also people from Rwanda who live in Western Japan, who had visited Japan as government officer voted in KIC. It looked like "Little Rwanda" suddenly appeared in KIC.
Why KIC was designated for the overseas polling place is that Kobe city has the 2nd highest population of Rwandans in Japan, behind Tokyo, it is easily accessible even from Western Japan, and it is possible to supply suitable facilities. KIC was selected for those reasons comprehensively.
This story was covered, and it was printed in a local newspaper.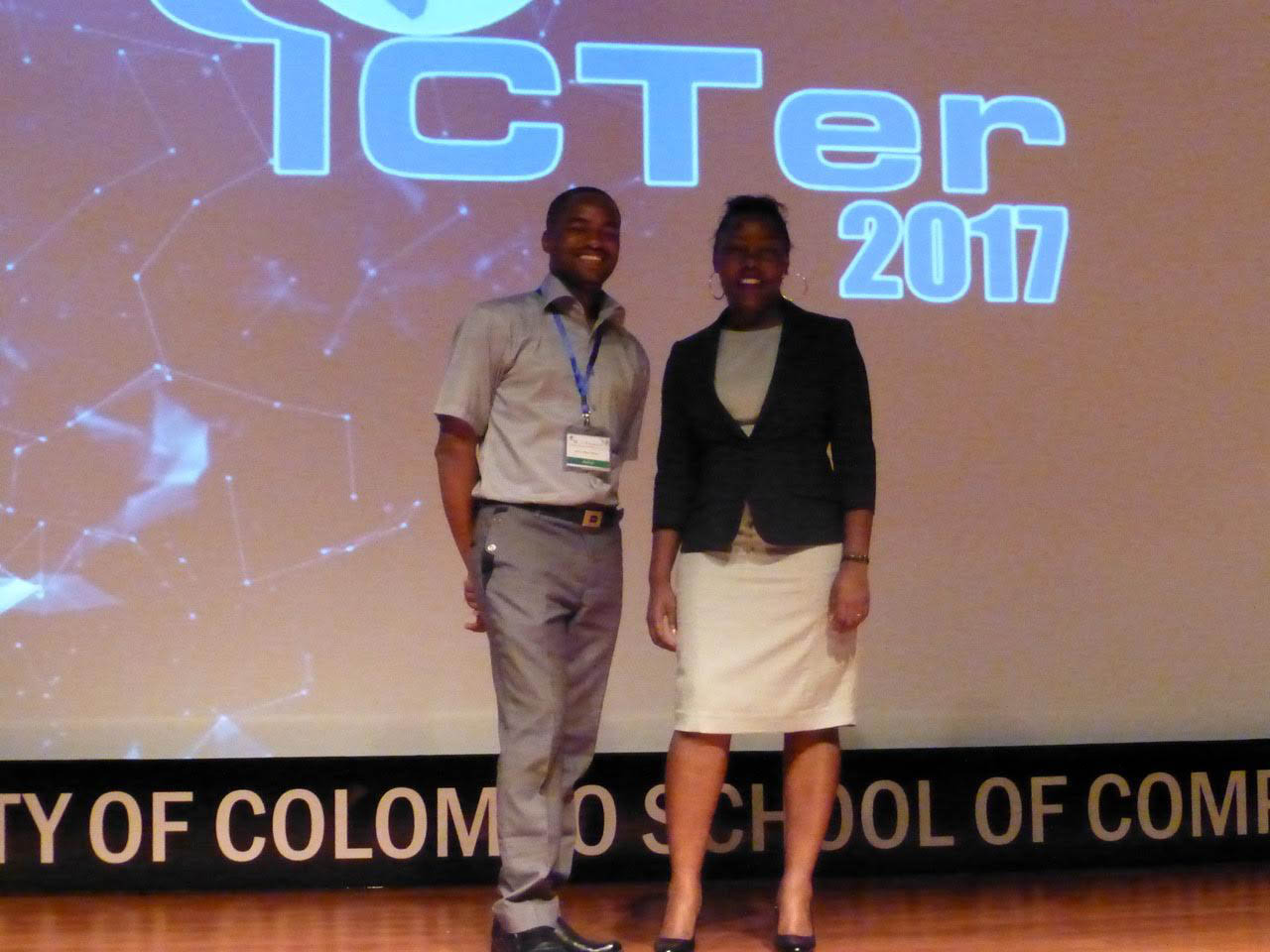 The presentation by students from KIC generated a reaction in International conference
2017/9/21
The ICTer 2017 Conference (ICT for Emerging Regions) was held at the University of Colombo, School of Computing, in Sri Lanka on Sep.7-8.
KIC students Emily Kang'ombe and James Mmari had presented two papers on their research. Their presentations were well received and there were many questions. They have also visited the lab of Prof. Kasun De Zoysa and discussed possible research cooperations. The ICTer is a prestigious conference with a long history, and the acceptance of the papers shows the value of the research at KIC.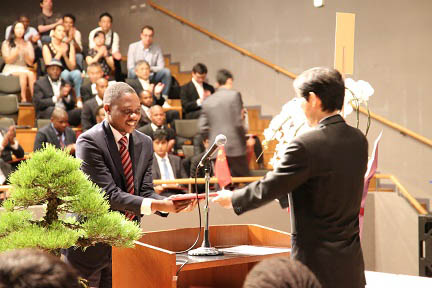 KIC graduation ceremony 2017 fall
2017/9/16
KIC graduation ceremony 2017 fall was held at Sonic Hall on campus today. We were glad to have a lot of attendance from the embassies of various nations, Kobe city, companies, and student's families. All of graduate students were shining, as they mastered the "Tankyu" spirit and achieved their goals. We are sure of your future success in your country.
Additionally, in this ceremony, the first honorary degree of KIC was awarded to Mr. Stephen Mmodzi, Counselor of Embassy of Malawi.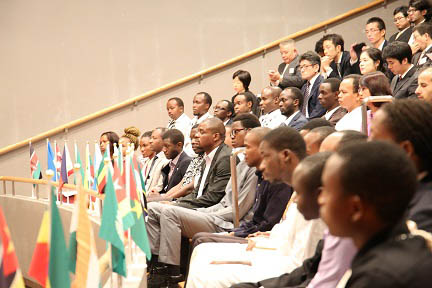 Entrance ceremony and Welcome party 2017 fall
2017/10/3
Entrance ceremony was held at Sonic Hall on campus today. Many talented students who feel a mission to develop their own countries, joined KIC this year. We had a lot of guests including Her Excellency Ms. Venetia Sebudandi, Ambassador of Rwanda. The fall entrance ceremony always has an exciting atmosphere with colorful national flags, national clothing and hairstyles. All the teachers and students introduced themselves at the welcome party after the ceremony.
We hope that students will learn ICT's extensive knowledge and skills based on Tankyu Practice and that they will be able to develop their abilities.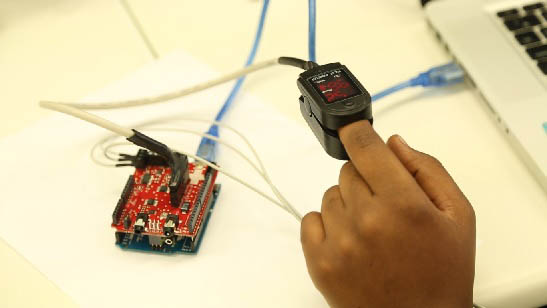 Evaluated at the MediTech International Conference
2017/10/11
CME -Complex Medical Engineering- is an international conference where researchers from all over the world present their works on medical engineering and discuss them. Many well-known ''Meditech'' results have been presented there before. CME2016, which was held in Tochigi prefecture of Japan last summer, had sessions not only for advanced science and technology, but also a session dedicated to ICT4D (ICT for Development), organized by Prof. Sandor Markon of KIC. Mr. Amiri Mugarura, who graduated from KIC last year, made a presentation about his research "Remote Patient Diagnosing Using Health Care Sensor Networks in Rural Areas, Rwanda'' and it was well accepted.
We are glad to report that his research was published in the well-known academic journal "Neuroscience and Biomedical Engineering". In rural areas of Rwanda, people are suffering from a lack of doctors. Although the government provides "community health workers", they can only provide elementary care to the people and it's really hard to determine whether someone has a serious illness or not. It is a difficult decision for rural people to go to city hospitals due to a lot of time and cost, and it is a great help for people to get a doctor's opinion remotely. While studying at KIC, Mr. Amiri succeeded in developing a device to solve this social problem with support by Prof. Markon, and it was greatly appreciated at the conference. In the near future, we can expect implementation in Rwanda.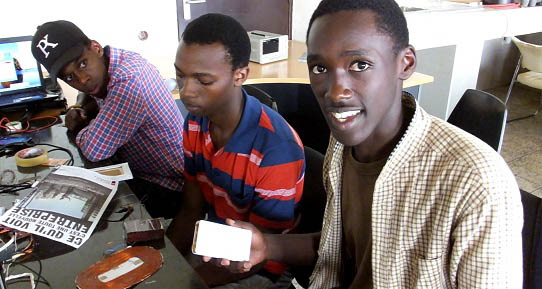 Letter from Kigali
2017/10/25
We KIC have been entrusted with the project ''ICT Human Resources Development in Kigali, Rwanda'' from Japan International Cooperation Agency (JICA) in partnership with Kobe City.
It has been almost a month since this project started on 3 October. The lectures conducted by KIC graduates trainers using KIC original video education tools have been two thirds completed already, and form next month, the training will move on to the remaining lectures and development practice.
In this project we're going to cultivate 45 ICT talents in 2.5 years with 3 cycles (each cycle has 8 months) of training. The selection criteria of target personnel in this project is high such as those who have an original plan for ICT and have started already, but most of them are in their teens or twenties. This time we introduced an interview movie of trainees that was offered by Shizuka Funayama, the project manager. In this movie the trainees were speaking about their project developing a smart desk that was equipped with functions such as wireless charger for smartphones. Nowadays Kigali is introduced as a success model of technology in Africa frequently, but at the same time, the importance of ICT Human Resources Development is getting higher and higher. Thank you for your continuous attention on this project.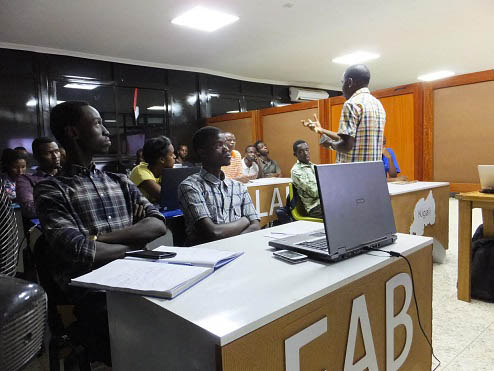 ICT Human Resources Development Project in Rwanda has finally started
2017/10/5
KIC has been entrusted with the project ''ICT Human Resources Development in Kigali, Rwanda'' from Japan International Cooperation Agency (JICA) in partnership with Kobe City. Currently in Rwanda, industrial creation using ICT has been promoted as a national project and a requirement for ICT skilled person who can play an active part in companies is increasing. This project aims to create an independent ICT human resources development system in Rwanda, generalizing Japanese advanced ICT education.
From 3 October, ICT training has finally started after 8 months preparation. (One cycle of training has 15 people and continues 8 months. 3 cycles will being conducted.)
5 local trainers that mainly consisted of KIC graduates facilitate this project using KIC original video education tools, and KIC teachers support this when they need. (Sometimes support them remotely from Japan.) On 28 September the opening ceremony was held. There was an international cooperation organization from Europe among the participants and this showed that this project attracts much attention even outside Rwanda. The New Times, local newspaper widely reported this story.
Additionally, the progress of this project has been continuously reported on a radio program ''Kobe bridging Japan & Africa thorough ICT'' that is hosted by Shizuka Funayama, the project manager of this project and Nsenda Lukumwena, KIC associate professor.
16:00 - 16:30 (Japanese) / 16:30 – 17:00 (English) 1st and 2nd Saturdays every month.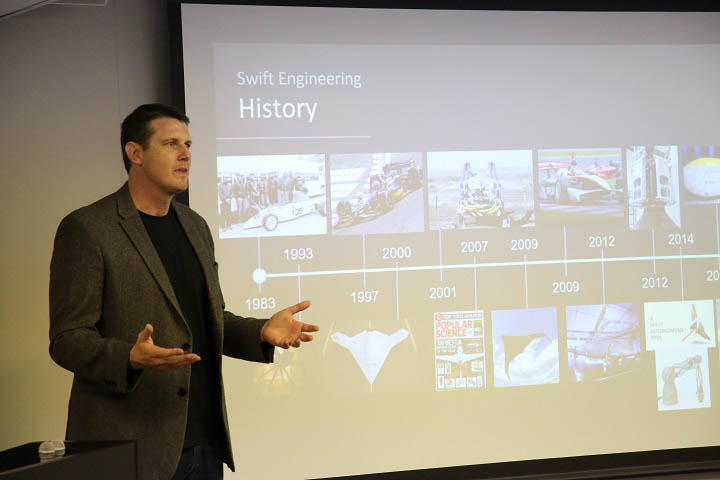 Special lecture on "Autonomous Runway Independence" at KIC
2017/11/14
A special lecture, titled "Autonomous Runway Independence", was delivered by Mr Andrew Streett, the Vice President and Chief Scientist at Swift Engineering, CA, USA, at KIC on the 10th Nov. The welcome message was honoured by the Vice president of KIC Mr Kenji Fukuoka and he mentioned that the lecture would motivate the students to enhance their idea of areas in order to solve social issues in their own country by using ICT.
Swift Engineering is an innovative American engineering firm working on various products from racing cars to next-generation aviation and aerospace components. In this special lecture, Mr Andrew addressed the main three innovative products, UAS(Unmanned Aircraft System), UAV(Unmanned Aerial Vehicle), and VTOL (Vertical Take-off and Landing). Distinguishing from the drones, these products are manipulated automatically, take off vertically, transit horizontally and so forth. With a swappable 1kg to 25 kg payload capacity and a 2 to 15-hour flight endurance, depending on the product, they can make remote operations faster, more inexpensive, safeer and efficient than any other currently available products on the market. Also, Mr Andrew talked about the application of these cutting-edge technologies to the existing and as-yet-unrecognized industries such as agriculture, mapping surveying, and surveillance.
After delivering his lecture to all of the attendants, Mr Andrew opened the floor for their questions for approximately 50 minutes. Since KIC has the core value that all of the students should be capable of tackling social issues with the application of ICT and innovation and they are trained to do so through our graduate-level education, a lot of questions regarding the applications and their business model were avidly asked from the floor. In this vigorous discussion, not only Mr Andrew but also Mr Rick Heise, the President and Chief Strategy Officer at Swift Engineering were actively involved in answering the questions. It seemed that all of the attendants in this lecture enjoyed the time and learned a lot from their innovative products.
At the end, Mr Hiro Matsushita the Chairman and CEO of the Swift Engineering made the ending remarks and showed his gratitude for their engagement in the active discussion.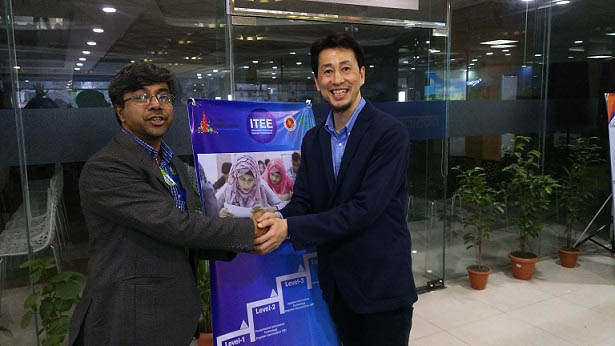 Bangladesh ODA Report Vol.2
''ICT Human resource development targeting Japan Market''
2017/12/28
We KIC are entrusted the technical aid project ''ICT Human Resources Development targeting Japan Market'' from JICA (Japan International Cooperation Agency) in the period from July 2017 to September 2019.
In present Bangladesh, the national promotion of ICT called ''Digital Bangladesh'' has been promoting strongly under the leadership of H.E. Sheikh Hasina, Prime Minister. Regarding the relationship with Japan, it's very avtive with a big union of several Bangladesh companies targeting the Japan market, and in an IT event ''Japan IT Week'' held in Makuhari Messe in May, Bangladesh pavilion was the No.1 in exhibition area. In a situation like that, the project ''ICT Human Resources Development targeting Japan Market'' aims to develop ICT human resource and create an independent human resources develop cycle. And for the first step, we are making efforts to increase the number of the successful candidates of ITEE (Information Technology Engineers Examination) and to establish an independent training system of ITEE.
This time Yukinobu Miyamoto, KIC extraordinary associate professor has done a second business trip to promote the activities after on-site review and meetings with counterparts conducted in August. (Specifically, making original education tools, conducting seminars for university teachers, students, governments, and companies etc.)
The results the project succeeded in increasing the number of registered persons as ITEE examinees to 224. (The number of last year's examinees was 70. The project estimates it will be 500 this year.) The project will be continued and will conduct practice exams and training for trainers of ITEE etc. from January to March 2018. Mr. Miyamoto gave strong comments that he'll see the independent human resources development cycle start working by the end of the project. Thank you for your continuous attention for this project.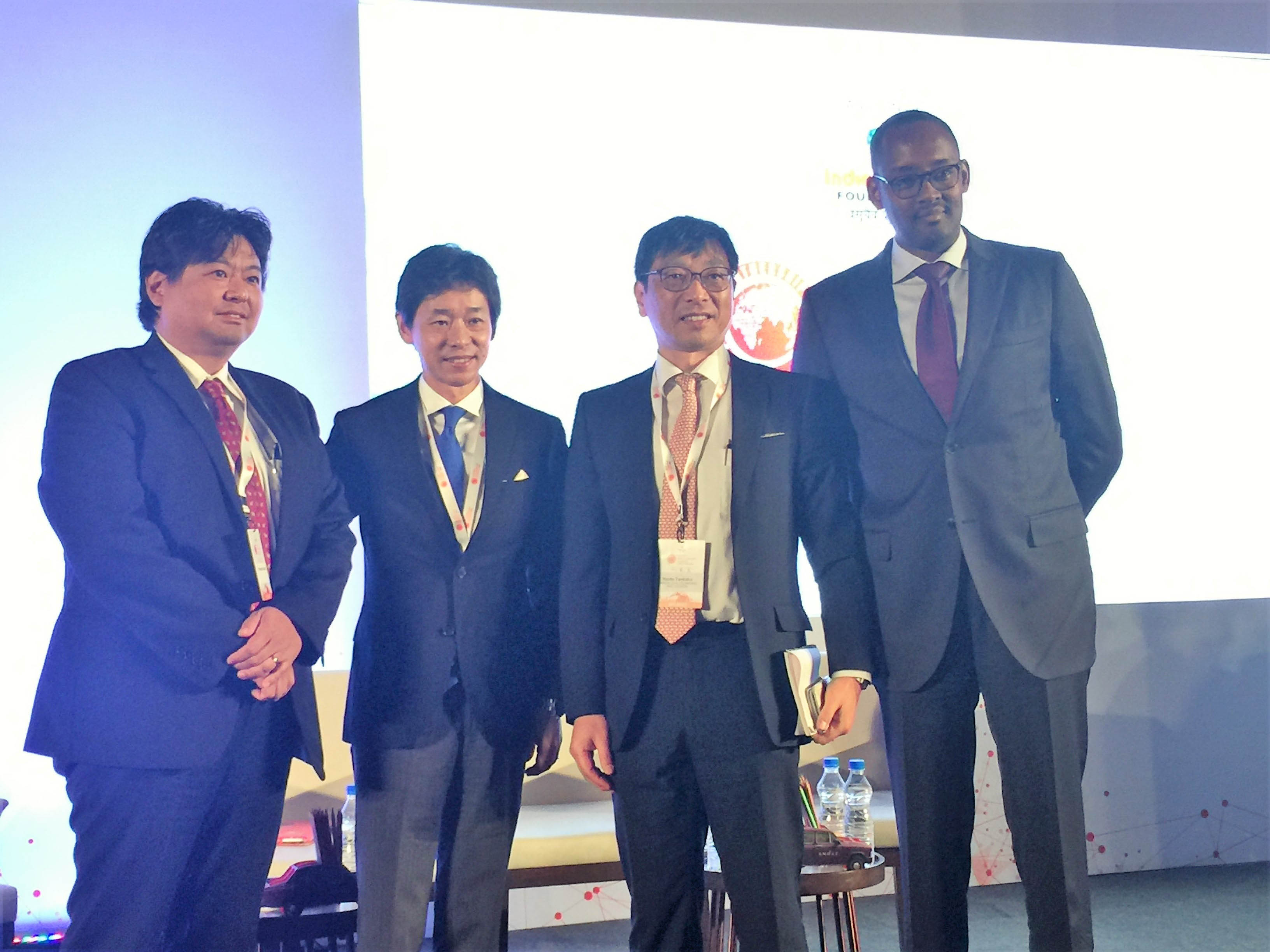 Mr. Fukuoka, Vice-president of KIC, was invited to "Global Partnership Summit 2017 in New Delhi" as a speaker
2017/12/24
December 11th to 14th, 2017, in Global Partnership Summit 2017 (GPS2017) at New Delhi, India, Mr. Fukuoka who is director and vice-president of Kobe Institute of Computing, Graduate School of Information Technology (KIC) was invited as a speaker and as a pioneer in the educational sector to advance Africa. Mr. Atsushi Yamanaka who is a lecturer of KIC, and who set out "The ICT Innovation Ecosystem Strengthening Project" in Rwanda was invited as a facilitator.
In Mr. Fukuoka's session, the panelists, Mr. Vibhav Kant Upadhyay, founder of GPS2017 from India, Mr. Bilali Camara, UNAIDS Country Director from India, Mr. Anil Trigunayat, Former Ambassador of India to Jordan, Libya and Malta from Africa, Mr. Michael Patrick Flanagan, Former captain in the United States Army from America, and Mr. Doga Makiura who has been selected as "12 youngsters in the world" by TED, spoke regarding "Global Partnership Dialogue: India-Japan-Africa". Mr. Fukuoka mentioned in the session about a partnership through our project which KIC which accepted many overseas students from dozens of African countries. "We have been cherishing the connection between Japan and Africa strongly. As well as India and Africa have been keeping strong connection. Therefore Japan, India, and Africa as a closer cooperation among three parties must be good and strong." he mentioned. Finally he referred the possibility of making a new partnership between Japan, India, and Africa.
In the session which Mr. Yamanaka facilitated, the panelists, Mr. Naito Tomoyuki, JICA Senior Advisor ICT and Development, from Japan, Mr. Naoto Tanaka, Nikken Sekkei Civil Engineering Ltd Executive General Manager, from Japan, Mr. Emery Rubagenga, CEO of Smart Africa secretariat, discussed regarding "Spurring Innovation to create sustainable smart cities in Africa". They spoke about ICT projects in Rwanda, how ICT should be utilized for economic development and social development, and how it changes to smart cities. In the session, there was an impressive message on the attitude of Japan for realization of smart cities which is "Japan wants to contribute to the realization of smart cities in Africa as a partner. We will cooperate with any companies in any possibilities without competition."
GPS 2017 opened December 11th and closed 14th, 2017. It was a great success.