ICT Professional Course Overview
ICT Professional course trains high level ICT human resources who can develop ICT systems and manage them. You can learn know-how and skills from the foundation to specialty in ICT field in 2 years regardless of what you did in undergraduate or in your business experiences. You can aim to be a "High Level Engineer" who can play an active part in companies (eg: ICT Specialist, ICT Architect ICT Project Manager etc.) and a ''Business Leader'' who can solve social problems using ICT. (eg: Business Innovator, Process Innovator, Social Innovator etc.)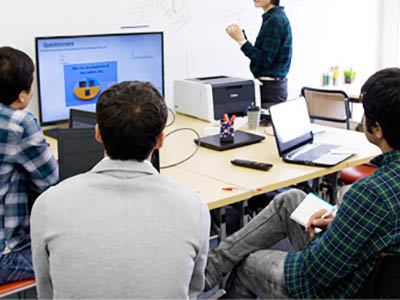 The ICT Professional course differs to ICT Innovator course, this course begins in April and all of classes are provided in Japanese. (Subjects to be offered are almost the same with ICT Innovator Course.) Most of students are Japanese or Asian foreign students for now.
Students without the necessary pre-requisite Japanese Language skills (N1 level Japanese language ability) can attend Japanese Language courses at our Japanese Language Department, before undertaking the ICT Professional Course.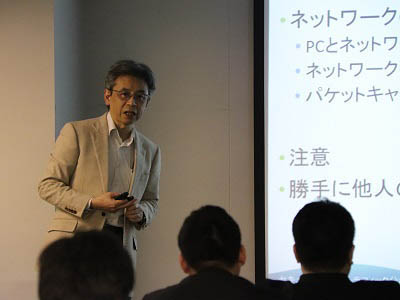 Human resources required for society
Social changes by AI, IoT, big data, etc. have created needs for new technologies one after another. ICT talent has always been a necessary skill all over the world.
Comprehensive and practical learning
After learning the fundamental knowledge and technology of ICT, we will develop engineers and innovators with high practical skills by working on projects from the development of applications and software, to research towards social implementation.
Start regardless of career
ICT Professional maintains a curriculum so that anyone can start ICT learning irrespective of whether they have experience in practical ICT or a college degree. In addition, students can recieve advice on long-term career design from the time they enter the university and for the subjects they take.
Ability to go anywhere
International students come from all over the world, such as countries in Africa, Middle East, Asia and Europe. If you improve international communication skills through exchanges, you can expand the playing field anywhere in the world.
What can you become?

ICT Specialist
Based on the business strategy, we define the requirements of ICT solution and system, and can optimally combine related technologies and design human resources who can design the whole architecture.

ICT Architect
In order to lead the successful ICT project to the success, we have determined the plan, execution, achievement, manage the progress, and are able to lead the stakeholders as a leader.

ICT Project Manager
Human resources who can analyze customer's needs and create / develop applications, software, products, services.

Business Innovator
Human resources who can formulate business strategies such as marketing and products and can create new businesses and services utilizing ICT while demonstrating leadership.

Process Innovator
Human resources capable of analyzing customer needs and tasks and conducting business process improvement and reform using ICT.

Social innovator
Human resources who research and analyze issues in society and aim to build a new infrastructure utilizing ICT.
Application Eligibility
Persons who meets all of the requirements below are able to apply:
Those who have completed 16 years of school education in a normal course.
Those who will reach over 22 years of age by the end of March of the same year of enrolment.
Those who have N1 level Japanese language ability.


*You can develop your Japanese language skills in KIC's Japanese language department from 1.5 to 2 years before joining the ICT Professional Course if you need.

Those who possess basic IT knowledge.
Those who can pay expenses in school (for 2 years) including tuition fee, living expense and other expenses