On December 11th, 2015, Dr. Ashir Ahmed visited Kobe Institute of Computing.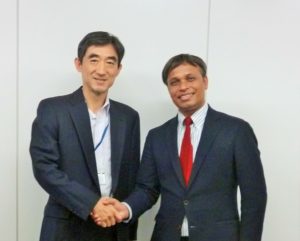 He had a meeting with the President Toshiki Sumitani, the Vice President Kenji Fukuoka, the Dean Mamoru Ito, Ms.Chika Yoshida (Associate Professor) and Mehdi Hasan (M2 Student from Bangladesh). We discussed about his research activity in Kyushu University as well as in Grameen and how we think about the necessity of ICT4D or social innovation and how vocational training can contribute in our society. He also shared about his SocialTech Lab and its different R&D project as like GramWeb, GramAgri, GramCar and GramHealth, not only that but also their challenge, opportunity & impact. He also gave a short presentation that how SocialTech Lab is trying to reach the unreached community in developing countries to achieve Millennium Development Goal(MDG) as well as Sustainable Development Goal(SDG). Finally Mr.Fukuoka and other members discussed regarding the collaboration opportunity from different aspects with KIC, Kyushu University and Grameen.
In the second phase, Dr. Ashir had a short lecture about ICT to Address Social Issues in I-Lab. At the end he took a time for question and answer session with the student.
.