Ikuo Sugiyama Laboratory
Let's contribute to better Quality of Life through practical town planning with innovative ICT.
Laboratory Overview
Our Laboratory consists of five master(M1) students. Three of them are from Afghanistan, one from Ivory Coast and the other from Ethiopia. Four students are supported by JICA program and the other by the government scholarship. Their objectives are to bring advanced technologies/experiences back to their home country to make a better life and sustainable development. It is rather an advantage that they were government officers/company employees before coming to Japan. In that case, their research themes have been already clear and specific. The weekly laboratory seminar is held to cope well with students' requests/inquiries coming from their researches. The concept in our laboratory is city development with CPS(Cyber Physical System) to make cities more sustainable and resilient. Corresponding key words are urban regeneration, compact city, transit oriented development, evacuation from flood and land administration.The cooperative researches are one important characteristic in our laboratory. Students from sister lab. (Matsunaga Lab, Fan Lab.) are able to join our weekly seminar at any time they want. In addition, the jointly seminars with Osaka Univ. are scheduled from Sep. 2015 in order to promote their research by learning from each other and cooperating together.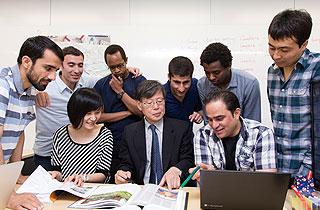 Field of Study / Subjects
The themes below are for the international conference in Shanghai described by our students.
Study of Agricultural and Energy-Harvest Oriented Urban Development
ICT for Disaster risk reduction for Health: A Focus on Urban Transportation and Medical Waste
Strategic Visioning Process of Efficient Land Readjustment Utilizing OCT in Developing Countries
eFAL(eFlood Alart) system framework for a quasi-real time flood risk information sharing for a sustainable urban and road safety
Avoiding Urban Flood Risk through Integrated Design and Management of Public Spaces
Web based Cadastral System for Efficient, Transparent and Sustainable Urban Development in Ethipopia
Transit supportive land use framework for value capture in Kabul city
Methods of Instruction and Research
It was valuable experiences that four master students' papers were published by the journal of 'International Workshop and Conference on Low Carbon Design for City and Building 2015' held in The university of Kitakyushu in year 2015. In addition, they got the various prizes in the joint work shop.
The discussions they experienced in lab seminar and the knowledge they got from the urban planning lesson in KIC helped them to shape their research further. As a result, three students made presentations in 'The World Conference on Transport Research Society' in Tonji University Shanghai China.
Students recognized that freedom and responsibility are both sides of a coin in their university life. Similarly, our researches should be innovative ones that satisfy with practical needs. In other words, the fundamental ICTs/urban planning theories are common. However, it is necessary to consider the differences in social, economic and culture/history when apply those new technologies into different countries.
We will support students who study for citizens' happiness. 'Be a leader having a same point of view as the weak' is becoming a motto.