Shima Laboratory
Reseach of network applications and its security
Laboratory Overview
In our laboratory, we research for a variety of applications through collaboration of cloud servers and devices.
We also research technologies for the security of such applications.
Recently, many equipment works in conjunction with the service on the cloud via the Internet, various innovative services has been introduced. The servers on the cloud, combined with high-performance smart phones, various network applications can be developed easily.
In addition, various sensors connected to the Internet, which is called IoT (Internet of Things) enhance the new possibility of network applications. We propose an application to solve a variety of issues by using these technologies.
We are also interested in ICT4D(ICT for Development) which uses the network services to solve the social issues, such as those in developing countries. In developing countries,
While the development of infrastructure and public services has been delayed, mobile phones and smart phones have become popular. By combining applications on the cloud mobile phones, we can provide various services such as banking and health care Network security becomes an important issue as variety of services and equipment are connected. Therefore, we study how the combination of techniques, such as authentication, firewalls, or cryptography can be used to make a secure service.
Based on my experience in developing many leading networking products and security technologies, I would want to tell the method to develop a useful equipment and services for society and business.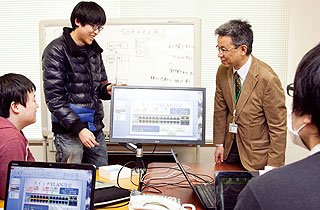 Methods of Instruction and Research
Our goal is not simply to study the technology as a technology. I expect our members to be a person who can actually develop useful equipment and services to solve social issues or to create a new business. For that aim, we discuss issues in society and the business and their solutions and communicate with related companies and users. Students and supervisors are jointly study to develop a practical and balanced system to solve the issue.
In addition, we believe the hands on experience of developing of software and configuring server yourself. Students in my lab develops working system of your own using various programing language and system depending on the purpose.
In our laboratory, students of various nationality are joined. We welcome students who are interested to work with students from Japan and many other countries.