Rich learning environment for advanced ICT studies
The campus buildings have lecture rooms, group work classrooms, and PC laboratories. Students can use the laboratories of each professor, as well as study rooms with individual booths. The library is equipped with professional books and academic journals needed for study. Internet access through wireless LAN is available throughout the campus. Lecture notes and other teaching materials are published on KIC's Moodle (a Learning Management System) that students can access both at the campus and from outside, e.g. at home or at work. Also, the Auditorium on 4th floor at Education and Research Building and Sonic hall and Foyer at Kitano Building are used for various events such as lectures for large audiences, or for special invited lectures.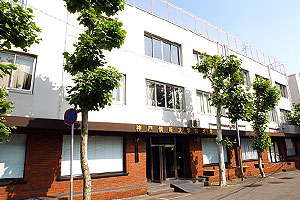 Lecture room
It is equipped with the facility which enables distance learning from overseas. There is also a lecture room for group work which suits active learning.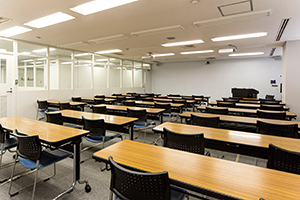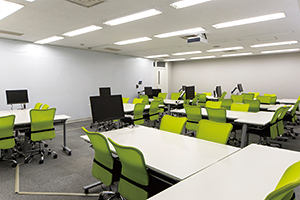 PC laboratory
This lab is used primarily to study Open Source Software (OSS), programming and networking classes. To provide ICT education with OSS, we have installed the Linux OS on each PC in the lab.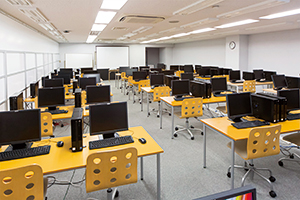 Library
It has a variety of books on ICT and social development.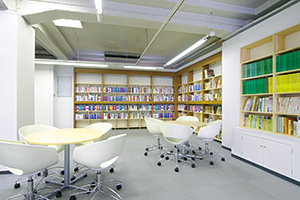 Seminar space
Students can work on their research in a group with other laboratory's members.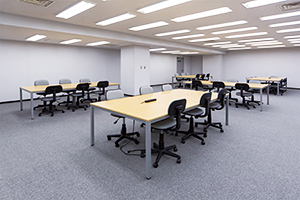 Free study space
All the booths are separated by partitions so that students can work on their research and study intensely.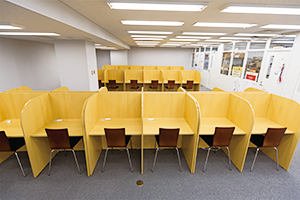 Foyer and Sonic Hall in the Kitano Building
The Foyer has a capacity of about 100 persons for special lectures and workshops. Sonic Hall can be used for various kinds of events with a capacity of 300 people, and internet broadcasting is also available.