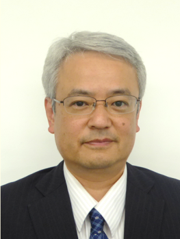 Tsuchida, Masayuki
Dean, Professor
Ph.D. in knowledge science
Bachelor and Master degrees in Applied mathematics and physics, Faculty of engineering, Kyoto university. Joined Panasonic Corporation, and researched design automation CAD systems at R&D section. Moved to Human resources development section, and in charge of MOT (Management of Technology) and engineers training in Panasonic Group. While working for Panasonic, got a doctoral degree from JAIST (Japan Advanced Institute of Science and Technology).
Japan's national certification: Professional Engineer (IT), Small and Medium
Enterprise Management Consultant,
Career Consultant
Member of Japan Information Technology Service Industry Association/Requirement Engineering Promotion Working group
Member of Software Engineers Association
Evangelist of practical management philosophy
---
I would like to try to promote researches on "value creation using ICT" with lab members, based on my former job's experiences of HRD in a corporation, especially MOT (Management of Technology) and Engineers education.
message
In the rapid evolution of ICT, Developing or mastering new ICT is important, and making use of it effectively to help society is also important. It is required to create customer values or social values through developing business or solving social problems using technologies effectively. It becomes more and more important to understand both "ICT" and "value creation", and to move action of (1)value creation using existing ICT, or (2) new ICT development for customers or social value creation. I expect you to think deeply about them and get the skill and knowledge of developing new business or new technologies. I would like to try to research about "value creation using ICT" with lab members, through learning the way of thinking about value creation as well as mastering ICT.
---
Subjects
ICT Business Development
ICT Business Exercises
Specific Theme Study A
Specific Theme Study B
Speciality
MOT (Management of Technology), Engineering leader training
ICT business development, Value creation using ICT.
Research and development of design automation CAD systems (expert system).
Software development on mainframe-computers, mini-computers, workstations, personal computers. Software engineering.
Engineers skill training (Unix, C, Network, Problem solution method, etc.).
MOT (Management of Technology) training, leader training, New business development training.
Executive training, Career development training, Skill change training.
HRD (Human resources development) system building, Training planning, Instructional design.
"Illustrated software development" in Japanese (multiauthor) Nihon Jitsugyo Shuppan, 2000 (70,000 copies).
"IT business consultant" in Japanese (multiauthor) Shoei-sha, 2001 (7,000 copies)