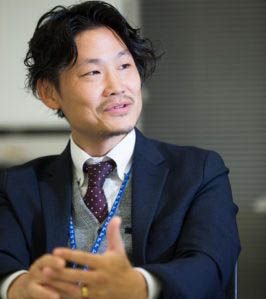 Takeuchi, Tomonari
Visiting Professor
BA in Political Science, Keio University, Japan
MSc in ICTs for Development, University of Manchester, UK
After working for an IT company in Japan, participated in JOCV (Japan Overseas Cooperation Volunteer) and worked as an IT teacher in Ethiopia
Embassy of Japan in Ethiopia
Consulting Firm
---
ICT is a powerful tool for development
When I was an IT teacher in Ethiopia as JOCV, a satellite network distance learning system was introduced in high schools all over the country by the Ethiopian government. It inspired me to work for ICT4D. Currently, I work for various kinds of ICT4D projects in JICA such as projects for ICT infrastructure improvement and projects utilizing ICT as a tool for development in developing countries. ICT is a powerful tool for development as well as business. However, there are not many experts who understand both development and ICT. This course provides a valuable opportunity for you to acquire knowledge and skill in the both fields. There are very few such a Master Degree courses in the world.
In my lectures, based on my both extreme experiences as an IT teacher, seeing the reality in local Ethiopian ICT4D projects, and as a large aid agency staff managing many projects in technical assistance, grant aid assistance and loan assistance. I would like to share my broad knowledge and skills which have become fundamental to ICT4D practitioners.
---
Subjects
Fundamentals of ICT4D
Speciality
Project management for development projects at grassroots level such as school construction, well and irrigation system establishment, sanitation improvement, etc.
Project management for ICT4D projects in technical assistance, grant aid assistance and loan assistance
Presentation on 'FOSS as a driver: Perspectives from the ICT development agenda' at the 8th International Conference for Open Source Software 2012 in Tunisia
'FOSS as a driver: Perspectives from the ICT development agenda' in Free and Open Source Software Technology for Sustainable Development (2012) edited by Sulayman K. Sowe, Govindan Parayil and Atsushi Sunami, United Nations University Press