Classes where I can learn practical upstream processes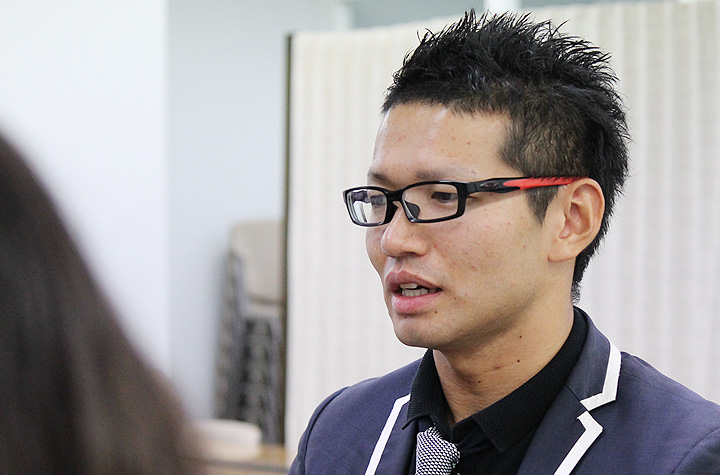 First year graduate student in the Professional Course
Katsuya Yokooji
Research subject: Aiming to introduce new value-adds to the EA (enterprise architecture) field using service engineering
Currently I am taking classes on my day off. Most of my classmates don't have any professional experience. The KIC classes are based on Project Based Learning (PBL), where we form groups within the classes and start a project together, in which we are given an assignment that we have to discuss with the project members to find a solution. We have to collect the information we need, examine it carefully within the group, and then have to make a presentation at the end of the classes. With my professional experience, I often find myself in the position of leader. I have to manage the contacts and the working process or the group, then instruct the members. This experience allows me to learn how to manage a project, and get a practical experience on upstream processes.
Professor's advices are based on his real experiences
This year, I'm in Professor Ito's lab. All the lab members have professional experiences. Since the lab members are in a similar situations, it is easy to understand each other.
Professor Ito was in an important position as a systems administrator in a large company for many years, so his advice carries a lot of weight and opens your eyes to the real problems in the real world. When we discuss just among the students, our vision is limited, and Professor Ito sometimes points out that we are not seeing the bigger picture. Objectivity is the key to understand the customer's needs. The students of KIC can learn from the rich real world experiences of its professors.
Managing myself and my time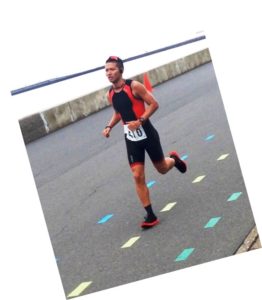 While I was working as a system engineer, once I got sick from its heavy workload. I started running as a form of rehabilitation, somehow I got a taste and now I am enjoying triathlons.
Masayuki Makino's book influenced me a lot, he is the CEO of Works Applications Co. Ltd., who worked in the busy business environment like me, but found time to continue triathlons. I was deeply inspired and determined to give triathlons a try, I started it about 4 years ago. Now, no matter how busy I am, I always find time to train and take care of my body, doing my job with my health in mind. I am studying and working and also taking part in competitions occasionally, and people often say that it must be hard, but actually it is the opposite. In triathlons, facing problems is a part of it, so I am getting skills to overcome issues. And my mind and body became stronger over time.
"How can I make it in a shorter time?"
This is why I train efficiently within my available time, to be at my best and be fully prepared before the competition day. I think it is the same for my job. With even the smallest amount of time I can work on improving my tasks, improving the situation for the betterment of the company, making sure I am prepared to produce value. I am absolutely sure that that is my road ahead.
The skill to be able to pick up requirements
I first became interested in the IT industry around the time when IT companies were prominent in Japan. I was wondering with anticipation about what would happen, what kind of wealth the IT would bring to the world. The world really has changed at an unbelievable pace since that time. However, my own intentions have not really changed so much. Rather than building a new system, I want to know as much as possible about an existing system and see how I can use that to make the world a better place. So rather than making something out of nothing, I prefer trying to maximize the results.
Something I am paying close attention to at the moment is Amazon Web Services. Amazon is a company that has tried to be as convenient as possible, and this system has great possibilities to maximize business efficiencies, cost reductions, and other benefits. I believe "service engineering" is the issue I am meant to tackle, seeing how these types of services can be used and how a beneficial environment can be achieved, and how I can contribute to society with these new types of value. Being able to make the proper choices about what is required and what is not from amongst all the services available is a skill that the world needs right now.
I want to master that skill at KIC and build my efforts to become a desirable and valuable person for a company.