A Link between Learning and Learners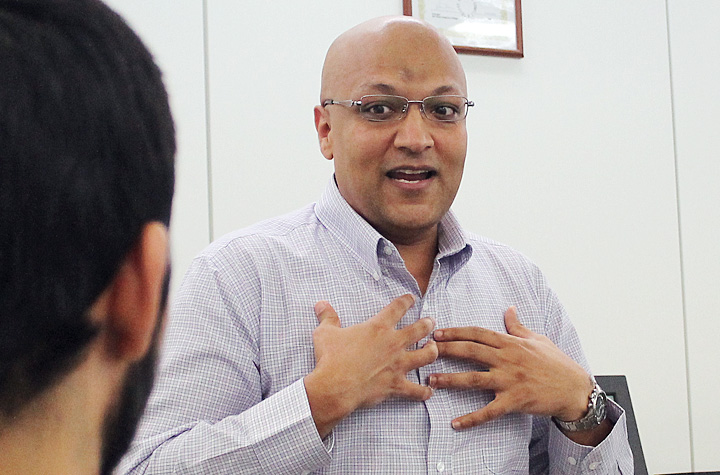 Samiullah Paracha: Assistant Professor
*Assistant Professor Samiullah Paracha quit from KIC at the end of September, 2016.
The ideal teacher is the one who connects with the students and through this connection make them connect with knowledge and learning. If this connection is well established between the teacher and the learner, more than half of the teaching goals have already been achieved. Although, books and contents are important, the teacher has an important role of linking learning and students. I always try to create a stimulating environment where everyone feels safe, well respected, and appropriately challenged.
Water management: A Global Issue
Clean water management is the most worrisome problem in today's world. I'm very much concerned about this issue. Water is life! Last century was witness to bloody wars fought over black-gold (oil), and perhaps this century will face devastating conflicts over Blue-gold (water). In fact water tensions amongst several countries in Africa, East Asia and South Asia have already started. I'm working on a JICA sponsored project to bring the Tanzanian Water Sector back to life through the application of ICT.
I hope that our water monitoring and operations system will bring transparency, efficiency and effectiveness to the Tanzanian water sector.
Teaching philosophy: Make things relevant to learners and they may just learn it
In class, I usually employ different techniques such as project-based learning, role-playing, and various tactile and kinesthetic methods so that the students can learn themselves. And my research interests include, but not limited to virtual learning environment, intelligent storytelling, intelligent tutoring systems, computer assisted language learning and the use of eye tracking data to improve educational multimedia.
Teaching provides learning, too. Both students and teacher learn from each other. Every encounter brings a learning opportunities for both the teacher and the student – depends who grabs them first!