YOKOYAMA, Teruaki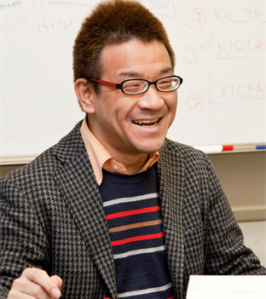 Profile
Ph.D. degree in engineering, Nara Institute of Science and Technology (NAIST) in 2006, Japan
Worked for launching the Cyber University as an Assistant Professor since 2006, which is a challenge for constructing online-based university in Japan
Lecturer of the Faculty of Information Technology, Kobe Institute of Computing (KIC)
Member of Asian Internet Initiative (AI3) project, which aims to develop the satellite Internet in the region
Field of study / subjects
Fundamentals of Information Networks
Specific Theme Study A
Specific Theme Study B
Field of Study / Speciality
Internet Technologies (Internet-of-Things, Software Defined Network and applications), Delay Tolerant Network, Design and implementation of network infrastructure in developing region and ICT applications (Sensors and Communications) on such infrastructure.
Research and interested topics are communication in disaster situation and rural areas, applications with networked system and ICT application for social development.
Message
Greetings, students. My name is Yokoyama, and my area of research is networking technologies and their applications. Networks are considered an essential aspect, if not a necessity, in a wide range of systems and fields. Therefore, being well-versed in networks often implies the ability and competence to involve oneself in a variety of projects, both social and technological. This alone can be considered a significant strength.
Applying networking technologies requires a thorough understanding of programs, computers, and networks. Therefore, in my research lab, students are encouraged to take a hands-on approach to acquiring knowledge and skills, and eventually take on the challenge of turning their ideas into something tangible. A wonderful feature of ICT is that it not only provides one with the ability to implement ideas, old and new, but also the excitement of testing and improving upon them.
Research in my lab is such a process, where students must investigate their ideas, consider existing solutions, propose alternative solutions, design and program original implementations, evaluate results, and report their findings. It is an intellectually comprehensive experience, but well worth it; it is not just the accumulation of knowledge that we are after, but also the evolution of one's capacity to think and feel critically.
Students may involve themselves in literally any research topic involving networks and computers. Join us in our lab for a flexible, fun and highly enlightening academic experience!